From Gundams To Transformers: Linkin Park Gets Another Mecha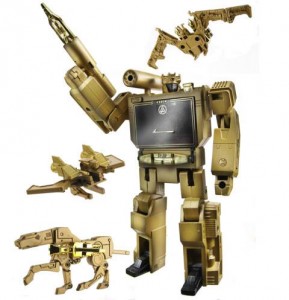 American rock band Linkin Park, has got another mecha to add up to their belt! Introducing the Linkin Park G1 Soundwave.
This limited edition Transformer has come a long way. It was first introduced in July 2012 at the SDCC and it made another appearance yet again in June 2013 at BotCon. After three years of agonized waiting, mecha fans can finally add this up to their collection! Some online shops such as Robot Kingdom is now accepting pre-orders for this Linkin Park version of Soundwave.
Priced at 125 USD, the Linkin Park Soundwave comes in the shade of gold chrome with black highlights. Ravage, and Ratbat and Laserbeak join Soundwave with the same colors. The figures are specially packed in a black and gold box that was made to resemble Soundwave. The package also comes with removable cassette tapes which also works as the set's certificate of authenticity.
Together, Chester Bennington, Mike Shinoda, Joe Hahn, Rob Bourdon, Dave "Phoenix" Farrell, and Brad Delson make up Linkin Park. The group was first formed in 1996 and with their first album entitled Hybrid Theory, the band skyrocketed to fame. When the Transformers movies were released, Linkin Park provided the theme for all three movies. The Linkin Park edition of Soundwave is a special project between the Hasbro and Linkin Park. The Linkin Park Soundwave is limited to 2000 units only so make sure you're part of the lucky 2000 who can get this one-of-a-kind Transformer!