Light Novel Sakurasou no Pet na Kanojo Gets Animated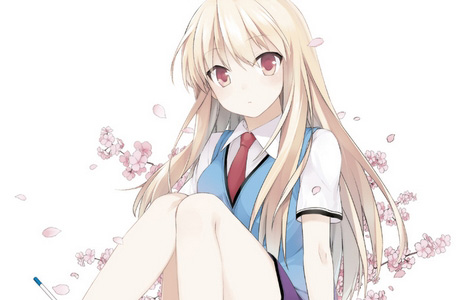 What happens when a brilliant girl meets an ordinary boy inside a messy dormitory especially made for delinquents?
Will they ignore past each other because of their intellectual difference, or end up being friends, and finally falling in love? With these circumstances limited in a small, cluttered space, soaring hearts await for an adventure which cannot be bound by the corners of the wall.
Hajime Kamoshida's light novel Sakurasou no Pet na Kanojo has been announced to gain its own television anime adaptation. The story, set forth in the youthful episode of warmhearted romance, friendship and discovery, features a high school centered romantic comedy about Sorata Kanda and Mashiro Shiina. Sorata, who has been living within the famed problem-children ome, Sakurasou, encounters Mashiro, who just moved in. Little did he know that this cute girl is actually a cosmopolitan brilliant artist, and for some strange reason, decided that this dormitory will be her new home.
Even though intellectually bright, Mashiro has a surprising secret—this girl is totally unaware of how to take care of herself. From the little things, like taking care of her room and her bed, to knowing the directions, Mashiro seems to be all lost. With this, Sorata was designated to be the master of Mashiro, taking care of her while giving her directions in order for her to acquaint with the life in the dormitory. With this, the ordinary boy becomes a master, and the brilliant girl becomes a pet.
Casted as voice actors are Yoshitsugu Matsuoka as Sorata Kanda, Ai Kayano as Mashiro Shina, Yui Horie as Ryunosuke Akasaka Mariko Nakatsu as Nanami Aoyama, Natsumi Takamori as Misaki Kamiigusa, Takahiro Sakurai as Jin Mitaka and Megumi Toyoguchi as Chihiro Sengoku.
The original manga was published in 2010, and the 7th volume is shipping this April. More information about the anime can be found at its website, http://sakurasou.tv, which is under the production company Media Factory.