Life Sized Gundam Featured in the Gundam Front Tokyo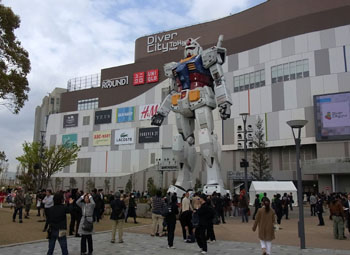 Mecha lovers will find this Tokyo spot a true wonder, as a new retail and entertainment compound has been built to realize the astonishing wonders of the science-fiction world of Gundam.
This building, located at the Odaiba waterfront district, is situated in the Koto Ward. An 18-meter Gundam Statue "Diver" is created to guard the area.
The facility is termed as the DiverCity Tokyo Plaza, where the giant Gundam's name was taken from, and contains a number of interesting retail outlets, which includes known brands such as H&M, UNIQLO and ZARA. Alongside this, the main attraction is focused on the entertainment spot run by Gundam makers Bandai.co, which showcases real-scale attractions of the popular mechanical anime series. The Gundam Front Tokyo includes a thrilling Dome-G for the nostalgic scenes in the animations, showing off dynamic images as well as computer derived illustrations of the new works, which are projected within the 16-meter diameter dome.
The Experience Field area allows visitors to view various robot models, starting off with a full-scale Core Fighter Ver. GFT which has been shown in the first series. A life sized bust of the Strike Freedom Gundam from its Seed Destiny series is also displayed, along with a 1/3000th scale model of the A BaoA Qu Space Fortress to match the gigantic mecha armory. Visitors can enjoy having their photos taken with their favorite animation characters in the Character Photo Spot also located in the Experience Field.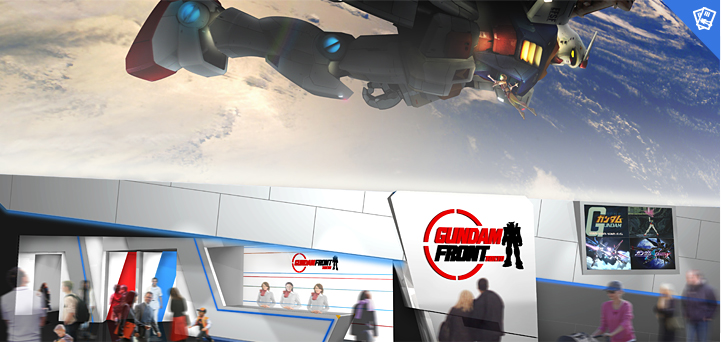 Another special location is the Museum Space, which contains the Archive Counter. Visitors can use the touch panel and select the images and details which are projected on a wide screen, enough for the crowd to see within the venue. Works by mecha designer Kunio Okawara and animator Yoshikazu Yasuhiko can be seen on display. There is a panel which highlights the timeline and guideline of the Gundam Series. About 1,000 platic models of Gundam, called the Gunpla, are exhibited in another section.
See more about the Gundam Front Tokyo at the English Website: http://gundamfront-tokyo.com