Legend of Koizumi Mangaka Releases New Comedy Series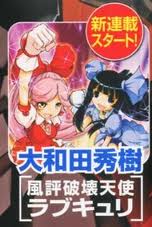 Known for his humorous plots and drawing detail, Japanese mangaka Hideki Ohwada launches another comedy series about to hit the comic world dubbed as the Fūhyō Hakai Tenshi Lovekyuri, or simply Lovekyuri, this new volume of Ohwada's addictive cheeky narratives will be launched in the August issue of the Champion Red Magazine by Akita Shoten publishing.
Ohwada is greatly known for his unconventional mangas, mostly infused with traditional themes that will lure in both the young and old into his comic world. This effect can be seen in his mahjong-based manga Mudazamo Naki Kaikaku, also known as the Legend of Koizumi; and the magical-girl series Great Magical Gap. These two mangas has inspired anime adaptations, with the Great Magical Gap being released in NorthAmerica as Magical Witch Punie-chan. He has also created a parody series for the known Gundam collective, the Kidou Senshi Gundam-san.
Ryujun Mabuyer is also known as Ohwada's witty adaptation of the Okinawa-based live action special effects television series. This started in the Newtype Ace of Kadokawa Publishing on June 8. His other known works also include the Tonari no Zarathustra San, a series which highlights the genius world of German philosopher Friedrich Nietzsch, as well as another gag comedy collection, Sengoku Yankee.
Alongside creating his own manga series, Hideki Ohwada has also supported other comic titles. He has collaborated with story and art in various titles such as Heaven eleven, Makaido, Dosperado, Beach de Q, and Keishityou 24 Hour. Ohwada has also created screenplays for original animation videos (OAV) Mudazumo Naki Kaikaku and Magical Witch Punie-chan.
Fūhyō Hakai Tenshi Lovekyuri is already perceived as a comedy series, based on its creator's distinct writing and plotting style. Fans of his works must certainly look forward to his amazingly cheeky narratives, which will show the fullest effect of Ohwada's unique style.