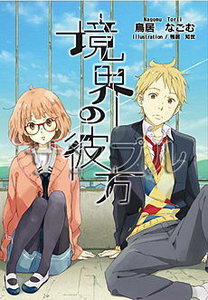 Kyōkai no Kanata (境界の彼方, Beyond the Boundary) began as a light novel series created by Nagomu Torii and is illustrated by Chise Kamoi. Torii is known to have entered the first novel in the series for the Kyoto Animation Award in 2011, where it won an honorable mention in the novel category. Later on, the novel was published on 2012 and a second volume was released on April 2013.
The story tells about the lives of two strange individuals, Akihito Kanbara and Mirai Kuriyama. Akihito is a high school second year student. He looks like a normal boy, but he is actually a half yomu (demon spirit) and is invincible to any injuries and wounds. With the ability to heal quickly, Akihito gains a strange prowess. Meanwhile. Mirai Kuriyama is a first year student who is generally isolated because of her strange ability. Akihito sees her when she is about to jump from the school's rooftop.
Mirai's unique ability is to strangely manipulate blood in many forms. This type of talent is so special nobody in the underworld has it. Akihito saves the girl from her leap, but then suddenly, startling events unfold after this.
The anime is directed by Taichi Ishidate. He will be heading the production at studio of Kyoto Animation. Jukki Hanada will be in charge of the series scripts while Miku Kadowaki will be designing the characters. You may find the character designs familiar as Kadowaki has been the K-ON Movie's animation director.
Chihara will be joining the voice cast. and the contributor of the opening theme song under the anime's title, "Kyōkai no Kanata."Hikaru Nanase will be scoring the music.
You will be seeing this dark, literally bloody tale on October at the Asahi Broadcasting Corporation Channel, Tokyo MX TV and TV Aichi.