Kyoto International Manga Museum Pays Tribute to March 11 Tragedy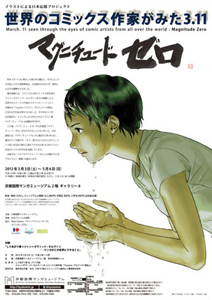 Local and foreign comic artists come together and relive Japan's heroic efforts in the face of the March 11 Earthquake and Tsunami disaster. It has already been one year, and people still look back to the fear and hop that rose during that dark time. With this concept, the Kyoto International Manga Museum dedicates an exhibit, entitled "March 11, As seen through the eyes of Comic Artists Around the World: Magnitude Zero." This exhibit and charity event will feature 120 artworks from local and foreign artist that showcased their skills in the charity book dubbed as Magnitude Zero Great Eastern Japan Earthquake Disaster.
An act that inspired this event is by Jean-David Morvan, a French bande dessinée author who collected charity illustrations from international artists. The publishing company CFSL Ink produced this assembly of artworks under the title Magnitude 9. This art book contains 250 works, all putting together their hearts for this Tsunami Charity Project.
Magnitude Zero on the other hand, is to be published by Asahi Shumbun, and contains 60 pieces from the original Magnitude 9 art book and 60 new illustrations. The book will be sold with the price of 2,310 Yen, and 200 Yen from every sale will proceed to Japan's earthquake and Tsunami recovery. The art works in the Museum will be seen within the pages of Magnitude Zero as well.
Artists which participated includes Kamui Fujiwara (creator of Seirei no Moribito and the Dragon Quest: Warriors of Eden), Kotobuki Shiragari (Ano Hi Kara no Manga) and Keiichi Koike (Ultra Heaven). While admission to the exhibit is stated as free, one requires separate admission for the museum entrance.
Alongside this, Magnitude 9, the French release of the project, held its own exhibit in the French-Japanese Institute in Kyoto's Kansai. Magnitude Zero will run from March 3 to May 6, and is found on the second floor of the Kyoto International Manga Museum, Gallery 6.