Promotional Video for Kotoura-San Streamed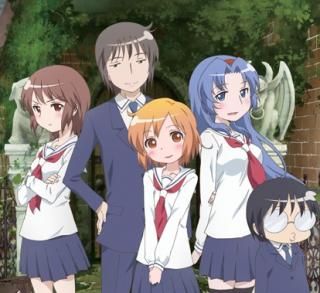 Anime music production house Flying Dog has begun streaming a video teaser for the upcoming Kotoura-san anime project. Set to be launched on January 2013, Kotoura-san television anime adaptation is taken from manga artist Enogizu's work. This was originally a yonkoma series, a 4-panel gag manga about a girl who can read the minds of other people.
The recently released video gave the chance for anticipating viewers to take a glimpse of what this anime project has in store for them. Highlighting the give main characters of the show, one can see the uniqueness of this cast through their attributes. The teaser includes the cute Haruka Kotoura (voiced by Hisako Kanemoto), the young girl who can read people's minds; Yoshihisa Manabe (voiced by Jun Fukushima), who is entirely charmed by Kotoura; Yuriko Mifune (voiced by Kana Hanazawa), the local ESP club president; Daichi Muroto (voiced by Hiro Shimono), the club's vice president; and Hiyori Moritani (voiced by Yurika Kubo), the heir of her family's dojo.
Kotoura-san trails after the story of Kotoura, who had just transferred into a new school. She joins the ESP club, as she has the strange ability to read minds.
Yuruyuri's Masahiko Ohta will be directing the anime project at the studio AIC Classic. Alongside him is his co-Yuruyuri scriptwriter Takashi Aoshima, who is also handling the same task in this new anime. Takaharu Okuma will manage the character designs and will be the chief animation director.
The manga has run in Micro Magazine's online magazine, the Manga Goccha (Manga Got a Chance), and the publication has printed the third compiled series of the book volume in 2011.
While this anime is still set to be one of the 2013 starter series, you can see the overload of cuteness and ESPs here! Watch the video teaser below and see what Kotoura-san has in store for you: