Kotobukiya Previews Brand New Bishoujo Figures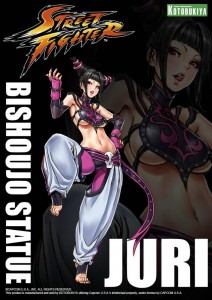 Collectors, are you ready? Kotobukiya (株式会社 壽屋) is at it again and this time, two new figures have been previewed! On February 10, during Kotobukiya has shared Shunya Yamashita's (山下しゅんや) Bishoujo illustration of the deadly Korean Street Fighter, Juri Han ( ハン・ジュリ ), on their official Facebook fan page. Set for release on the first quarter of 2015, Juri is the third female Street Fighter to have a Bishoujo statue along with Chun Li (チュンリー) and Cammy (キャミィ) and, of course, has been given a sexy make-over by Yamashita. Juri's art was shared around the time when the Winter Wonderfest was still celebrated in Japan.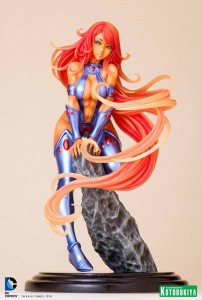 During the New York Toy Fair 2014, a full catalog of Kotobukiya figures have been out and about that features their wonderful works of art. On February 15, Starfire from DC Comics has made headlines over at the Kotobukiya Facebook page with a provocative sneak peak over the figure. Two days after, a set of beautifully taken photographs have been posted at the same page. According to the catalog, Starfire is set to be available for purchase on October 2014 . If you want to add her to your collection, start saving up NOW. Suggested retail price for both figures are still up for announcements.