Kotobukiya Presents More Hot Bishoujo Figures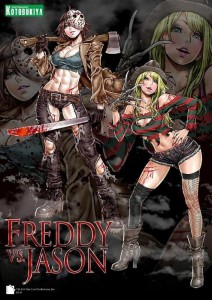 Remember last year's Kotobukiya's Halloween teaser where they have us a silhouette of their next figures based on famous movie slashers? Well, who would have guessed that Freddy Krueger and Jason Voorhees would look this hot! Shunya Yamashita (山下 しゅんや) is back as his deadly gender-bent duo from Freddy vs. Jason take on the Wonder Festival.
Freddy Krueger and Jason Voorhees have gained fame with their respective 1980's slasher films, A Nightmare in Elm Street and Friday the 13th. Known for his razor-fingered gloved hand and his severely burnt appearance, Freddy Krueger hunts his victims in their dreams which ends up also killing them in real life. Machete-totting Jason, on the other hand, is a gigantic, indestructible murderer hailing from Camp Crystal Lake. His face is covered with a hockey mask that we all come to identify him with. In 2003, these two faced off in the crossover movie, Freddy vs. Jason. In this Kotobukiya production, who would win in this round?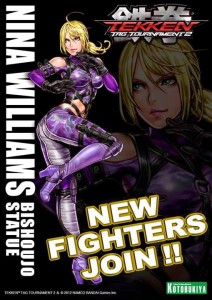 Freddy and Jason won't be the only sultry Bishoujo figures from Kotobukiya. Tekken's (鉄拳) purple-clad blonde bomb, Nina Williams (ニーナ・ウィリアムズ), is joining in on the Tekken Bishoujo roster. But will she be alone? Stay tuned to find out! Mara Jade from Star Wars also has a Bishoujo figure which will be available on May this year. She has been given a quick update with two graphic bases, namely the Rebel Alliance logo as well as the Imperial seal.