Kotobukiya Adds Ethereal Tekken Fighter To Bishoujo Series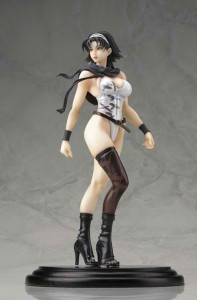 After more than 10 years, Tekken fans finally got to play Jun Kazama (風間準) once again in Tekken Tag Tournament 2 (鉄拳タッグトーナメント2) since her first appearance in Tekken 2 (鉄拳2). Kotobukiya (株式会社 壽屋 コトブキヤ) has immortalized the woman who forever changed the story of Tekken in this beautiful 1/7 scale figure.
Dressed in a swimsuit based on her Tekken Tag 2 default costume, Jun stands at a height of 220 mm. Busujima Takamaki (毒島 孝牧), also known as Busujimax (ブスジマックス), took charge over this lovely addition to the Tekken Bishoujo Statue Series and successfully maintained Jun's air of mystery and dignity.
Just who is Jun Kazama? Jun Kazama is more than just an environmentalist and advocate for peace. Trained in the Kazama Traditional Martial Arts (風間流古武術), Jun entered and made her debut in the second Tekken tournament to not only arrest Kazuya Mishima (三島 一八) for his illegal smuggling of animals, but also to release him of the evil power that is consuming him. Jun bore Kazuya a son whom she named, Jin (風間 仁). Jun was surrounded with even more mystery and controversy with the appearance of Unknown in Tekken Tag Tournament 1 (鉄拳タッグトーナメント1) until it was confirmed that she really is Jun Kazama in Tekken Tag Tournament 2.
The Jun Kazama Bishoujo Statue is priced at 7,140 JPY (72.50 USD) and will be released on February 2014.