Kono Naka ni Hitori, Imouto ga Iru Anime Launches this July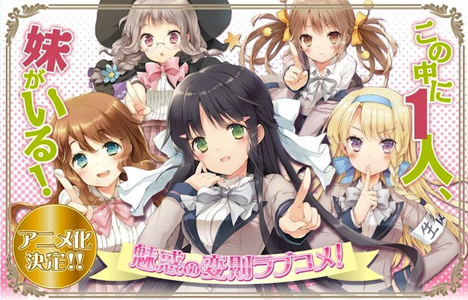 Starting on July 6, Japan will experience a new range of light romance with Hajime Taguchi's Kono Naka ni Hitori, Imōto ga Iru! Prepping up the anticipation, a new trailer for this anme has been aired during the last episode of Sankarea, taking its slot on TBS at Friday, 1:55 am.
Takahiro Sakurai takes the lead role of the series, starring as Shougo. He will be joined by five female lead cast, Kaori Ishihara, Ayane Sakura, Rina Hidaka, Asuka Ougame and Ayana Taketatsu. These actresses will also contribute to the show by singing the ending theme song, Heavenly Lover.
Kono Naka ni Hitori, Imōto ga Iru! (Naka-imo, trans. "My little sister is among them!") centers around Shougo Mikadono, the son of a wealthy industrial magnate Kumagorou Mikadono, who had just passed away. In his final wish, Kumagorou asks his son one favor before he finally can inherit the family legacy—to find a mate at school. Shougo, in order to fulfill that condition, transfers school.
But problems arose, for Shougo discovers that he has a younger sister, who has been separated at birth, who happens to be at the same school he is enrolling. The dilemma adds up as he has little idea of what his little sister looks like. Now, how could he find a mate when there is a possibility that the girl he may be picking is his long lost sibling?
Munenori Nawa (R-15, Nogizaka Haruka no Himitsu)will direct the series, with Go Zappa (Chocotto Sister) handling the scripts. Kenichirou Katsura (Macross 7, To Heart 2) takes on the adaptation of the original novel artwork by CUTEG especially for the animation. Kono Naka ni Hitori, Imouto ga Iru was originally launched in 2010, with the sixth volume shipped in March.
Excited for the new show? Go watch the animation trailer below to spark up more of that anticipation: