Kochi Magazine's Cover Illustration Contest Announced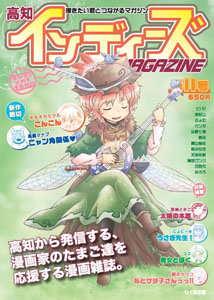 Indie magazine Kochi has recently revealed details of their illustration contest. This independent manga magazine's aim is to discover and aid young and aspiring manga artists who want to enter the professional world of illustrating. The contest is open for the cover illustration of the magazine's 12th issue, which is set to be published in the month of November this year. International illustrators will be happy to hear that Kochi accepts applications from outside Japan.
The magazine has received many responses from an audience from all over the world. Kyoko Yasuoka, Kochi's Editor in Chief, states that they should accept a foreign artist work for their cover illustration contest, already 6th in the running. This is a wonderful opportunity for Kochi to reach out to a broader reader base outside their country.
Kochi Magazine has released a cover illustration guideline. This states that the up-coming cover will be selescted by a contest. The illustrators' entries will be showcased in the grand Yokoyama Ryuichi Manga Museum found in the Kochi Prefecture. The museum's visitors and tourists can vote for their most favorite artwork, and the most popular one will be used for the cover for the next issue of the magazine.
The voting period for this contest is scheduled to be held within two weeks in September. However, every entry will be exhibited in a manga event in November within the same district. For those who are interested to send their creation, here are the art guidelines:
Paper Size: A4 (width 210mm x height 297mm), 2893 x 4092 pixel (resolution: 350dpi)
Color mode: CMYK, RGB
Submission Format: JPEG, EPS, PDF
The format for compression: .zip
Creator's pseudonym, name, age, sex and country must be included in the submission. Only the writer's alias and their country will be listed as details for the exhibition. The deadline for submitting the artworks is on August 31, 2012. This must be attached by e-mail, to be sent to this address: kochi-indiesmagazine@chime.ocn.ne.jp