Kin-iro Mosaic Adds New Cast in Series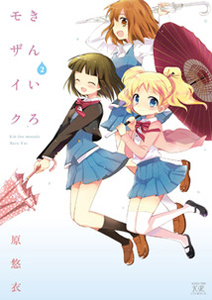 The official website for the anime adaptation of Yui Hara's four panel comedy manga Kin-iro Mosaic (Golden Mosaic) has recently updated with new cast members. On 2012, it was revealed that this manga will receive its adaptation slated for July this 2013. Casted for this series are Asuka Nishi as Shinobu Omiya, Manami Tanaka as Alice Cartelet, Nao Toyama as Karen Kujo, Risa Taneda as Aya Komichi and Yumi Uchiyama as Yoko Inokuma. The five main actresses will sing the main theme song for the anime.
Additional cast members have been revealed as Yukari Tamura, who plays Isami Oomiya. Isami is Shinobu's big sister who is a fashion model. Satomi Satou will play Sakura Karasuma, Shinobu's English teacher.
In the story, Shinobu is a fifteen year old Japanese girl with a look that is seemingly clean and pure. She did a home stay in Great Britain, and after coming back to her own country, she misses her time overseas. One day, an air mail letter arrives—it came from Alice, the girl in Shinobu's host family in Great Britain. Her letter reads, "Shinobu, I'm coming to Japan!"
Golden Mosaic is a Japanese/British girls' mixed comedy which trails after the lives of Shinobu, Alice and the other girls from both Japan and Great Britain. Hara has launched this manga in the magazine Manga Time Kirara Max back in 2010. Houbunsha published the second compiled book series this April. The mangaka Yui Hara is also known for her other series, The Witch of Artemis / Hoshi no Witch which has been published by Tokyopop in North America.
Tensho will be directing the anime series at Studio Gokumi, basing off from scripts done by Yuniko Ayana. Kazayuki Ueda will be handling the character designs, with music by Ruka Kawada and sound by Jin Aketagawa.