Karino Takatsu Manga To Be Adapted into TV Series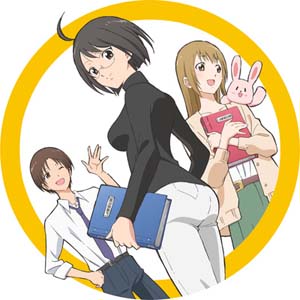 The Anime Contents Expo brought about great news for many manga and anime lovers, as revelations come one after another. It is during this event that Karino Takatsu's Working!! four panel comedy manga is getting its very own television animation in July from A1 Pictures. The working title will be Servant x Service but still retains the very core of the story.
This humorous, slice-of-life series takes a deeper spotlight on the employees of a government ward office in a district of Hokkaido. The plot trails after the daily lives of the health and welfare division members, giving the true-to-life and honest-to-goodness scenes, in spite of the exaggerated emotions as conveyed through graphical illustrations. This takes a different route from the regular fantasy light novels and centers on something which can be found in reality.
Takatsu has launched Working!! in the Big Gangan Magazine by Square Enix in 2009. The company has published the series' second compiled volume in November 2012. There is a limited edition version of the manga's 2nd volume, a special package which includes a bundled Drama CD. The anime will feature the same cast from that drama CD. This includes:
Ai Kayano as Lucy Yamagami
Tatsuhisa Suzuki as Yutaka Hasebe
Mai Nakahara as Saya Miyoshi
Aki Toyosaki as Megumi Chihaya
Takahiro Sakurai as Taishi Ichimiya
Rumi Ookubo as Tōko Ichimiya
An official website for the series has been launche by A1 Pictures, and it is currently streaming six mini theater videos for the anime as a preparation for the debut. Yasutaka Yamamoto will direct the series, with scripts by Taketo Shimoyama. Terumi Nishii will be adapting the original designs by Takatsu for animation, and HALF HP STUDIO will handle the sound production headed by Akiko Fujita as sound director.
The manga Working!! has an anime adaptation released by NIS America, under the name of Wagnaria!!