Kanpai Senshi After V Shows Fans What Super Sentai Heroes Do After Kicking Monster Butt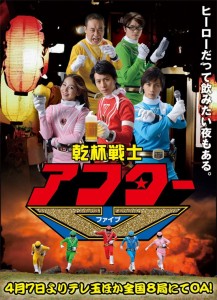 Last month, we reported about what Kaijus do post Super Sentai (スーパー戦隊シリーズ) fights. Now here comes this question: what DO the heroes do after monster fights? A brand new Japanese television show entitled Kanpai Senshi After V (乾杯戦士 アフターV) shows us just that! The Super Sentai parody focuses on a team of Super Sentai heroes who celebrate the end of their working day by partying and by partying they mean karaoke, drinking and whining incessantly about their job.
A short teaser has been released via Youtube on March 12. 2014 thanks to 5pb.Records and the nearly 2-minute long video shows a short introduction on our heroes as well as comedic fight scenes. Originally called the Golden Warriors Treasure V, they have been renamed Kanpai Senshi After V after being spotted one too many times drinking after 5:oo PM. Well known Super Sentai faces include Murai Ryota (村井良大) from Kamen Rider Decade (仮面ライダーディケイド) and Kazuki Kato (加藤 和樹) from Kamen Rider Kabuto (仮面ライダーカブト) as the Red and Blue Warriors respectively. The old but gold Yellow Warrior is filled in by comedian Akihiro Kimura (木村明浩) while stand up comedian Tsubasa Tobinaga takes on the role of the Green Warrior. The men are joined in by the lovely Japanese singer You Kikkawa (吉川 友) as the Pink Warrior.
Kanpai Senshi After V will be aired on April 7 in TV Saitama (株式会社テレビ埼玉). Check out the official Kanpai Senshi After V official website for more info!