Kanjani8's Ryuhei Maruyama to Star in a Manga Live Adaptation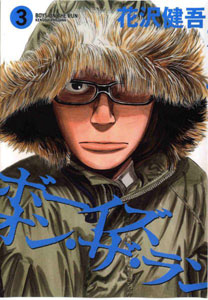 Starring in a role that is quite different from his known, flashy celebrity status, Kanjani8 Member Ryuhei Maruyama is announced to be the lead actor in the live action adaptation of Boys on the Run. He ditches his famous persona into a loser who is nearing his thirties, without any sense of having a good future. Maruyama will play the protagonist Toshiyuki Tanishi, a capsule toy vendor who has no love life; no life at all!
Created by Kengo Hanazawa, Boys on the Run is included in a collection of stories of underdogs who turns into triumphant characters at the end. Hanazawa has written other stories with similar "loser" themes such as Ressentiment and I am a Hero. The strange plotlines have captured the hearts of many readers who were able to relate in his plot, to which in turn won him many accolades.
Maruyama states that he can relate to the protagonist, whose face regularly turns red whenever nervous. This is a boxing-themes series wherein the main character chooses to join the sport in order to win a girl. Other cast includes Airi Taira as Tanishi's gym trainer Hana Oiwa, Takumi Saito plays Aoyama, Akina Minami plays Chiharu and co-Johnny's KAT-TUN member Tasuya Ueda will also be feature in this show.
TV Asahi has already stated that the drama will begin airing during Friday nights at 11:15 PM this coming July. Takanori Jinnai, Eriko Sato and Miyoko Asata will also be joining the show.
Known for his many seinen-type works, Kengo Hanazawa's downtrodden themes has brought him numerous awards, including the Sense of Gender Award and Manga Taisho nominations. He formerly worked as the famed manga artist Osamu Uoto's assistant. The manga Boys on the Run was finished in 10 volumes. Additionally, this same story was first adapted into a live-action movie adaptation in 2010.