Plot and Characters for Kakumeiki Valvrave Revealed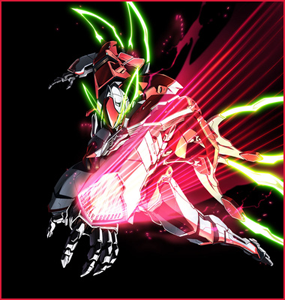 Just recently, the website for Sunrise's up and coming television anime series Kakumeiki Valvrave (Valvrave the Liberator) has began streaming its promotional video for Jump Fiesta. Fans, rejoice! This text includes English subtitles, which gives benefit to those who are not good with the local Japanese tongue. The text includes subtitles which introduces the basic plot and the characters. Ready to know more about this new mecha-themed anime? Read on below.
The plot is sent in an era when seventy percent of the human race thrives in space, due to the development of space cities. There are two major powers which exist: the Dorushia Military Pact Federation, and the Atlantic Ring United States. a small neutral nation called Jioru has prospered economically and lives in peace.
Jioru Sakimori Academy second-year student Haruto Tokishimi lives in this area when the Dorushia army invades them. He encounters a strange forbideen humanoid weapon, the Valvrave. Thus starts his quest to liberate his country from the arms of this military enemy along with others who has the same goal as him. Characters include L-Elf, a Dorushia Military Pact Federation special agent, Shoko Shiminami and Saki Rukino.
Kou Matsuo will be directing this English-subbed Jump Fiesta anime. Ichiro Okouchi will be handling the series composition. The manga creator Katsura Hoshino will perform original character designs for the series, and Tatsuya Suzuki will be adapting Hoshino's design for animation. Naohiro Washiro and Kunio Okawara will be handling the mechanical design.
Kakumeiki Valvravewill premiere on April 2013 on MBS' Animeism, a late night programming block. New key visual images can be found on the official Kakumeiki Valvrave website. Sunrise is known for producing mecha animes, with the Gundam series as the most popular. Get a glimpse on what's in store for you in this new anime by watching the video below: