Kagari Tamaoka's Mangirl About to be Animated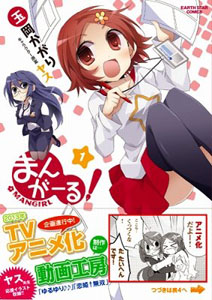 Ever wondered how it is to live like a manga artist? Do you want to achieve the glory of having a well-known comic book, even without the experience?
Well, guess no further. You can watch it on screen, and see the success and failures of mangaka wannabes who are out to conquest the world of comic books. Kagari Tamaoka's Mangirl! Manga About Editor's Lives, is green-lit for anime adaptation, and it features the struggle of those who hoped to be famous editors even without the experience to boost them up.
The obi jacket band on Tamaoika's Mangirl! Manga as well as the Monthly Comic Earth Star website had just previously announced that a television animation for the manga is already in the process to be launched next year. This four-panel story tracks around the daily life of the obstinate and naïve Editor in Chiefe Hana, along with "the country's cutest manga editors" as they pursued to take on their dream of producing the best manga magazine in the land. However, one setback brings them to a really difficult time—they have no actual experience in releasing a magazine!
With zero publication skills, how can the "cutest manga editors" become the best?
The original character designs for the manga are created by Yasu, the same artist who created Joshiraku and Toradora! The title was originally Sokan! Comic Earth Star Henshou-bu / Launch! Comic Earth Star Editors when it started in Earth Star Entertainment's monthly Comic Earth Star Magazine. There will be a first compilation volume to be released. The studio Dogakobo of Yuruyuri, Koihime Musou and a Bridge to the Starry Skies will produce the anime adaptation for Mangirl.
Get ready for a funny, action packed publication from the Mangirl, as the four funny editors goes through all the obstacles to become number one!