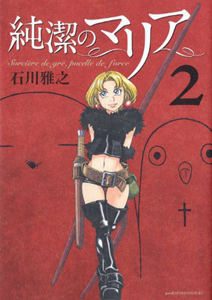 Love magic, witches and a lot of adventures? You'd definitely love Junketsu no Maria – Sorcière de gré, pucelle de force by Masayuki Ishikawa, a fantasy-inspired novel series that has been running since 2008. If you have been a long-time reader of the manga or a newbie when it comes to this French-inspired title, it's our joy to dish out that it's going to have an anime of its own, as revealed by the wrap around jacked band on the third volume of the series' installment.
And this is one power-packed adventure, literally and figuratively! The story follows the exploits of a young girl named Maria, who is actually the strongest, most-powerful Witch who exists during the Hundred Years' War in France. That's right folks; it's in a lovely, European setting imbibed with a lot of romance and steampunk feel. We think this anime's going to be a blast.
Now, Maria hated the war; she despises it to the bone, to be honest. Thus, the young heroine does her best to obstruct battles with her amazing magical powers. This includes conjuring frighteningly giant dragons or sending out her two faithful followers, her succubus Artemis and her incubus Priapus, to charm the warring officials with their beauty. Unfortunately, her meddling with the humans has caught the attention of the Heavens, to which measures the Archangel Michael issues a mandate: Maria will lose all her magical powers when she loses her purity. What?!
A beautiful angel named Ezekiel is commanded to watch over her and makes sure that this powerful witch does not use magic in front of people (humans, unfortunately, are afraid of her!). But this obstinate heroine is committed on using her magic whatever it takes.
Ishikawa has launched this French inspired manga on the inaugural issue of Kodansha's Good! Afternoon magazine back in 208 and the manga has ended its run in the magazine earlier this 2013. Ishikawa is also known for contributing to Moyashimon: Tales of Agriculuture manga running in the publication's Evening magazine.