Julietta Suzuki's Kamisama Kiss Gets Animated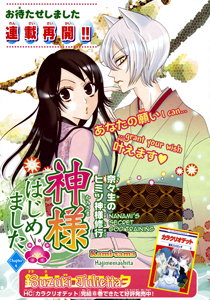 Heads up! Another anime adaptation is on the roll, and this time, it's Julietta Suzuki's illustrated novel, Kamisama Kiss. As stated in the 15th issue of Hakusensha's Hana to Yume magazine, it was announced that a television animation series has been brewing for Kamisama Kiss, also known for its other name, Kamisama Hajimemashita.
Akitaro Daichi, the same genius behind Kodocha, Fruits Basket and Now and Then, Here and There will take over the animation direction. TMS Entertainment, who produced Lupin III and Detective Conan, will create the series with Junko Yamanaka of the Detective Conan series will design the characters.
The story follows after Nanami Momozono, a teenage girl who has been continually mocked for poverty by her classmates. Her father ran out on her and escaped his many gambling debts. As she was being evicted from her apartment, she meets a strange man named Mikage, who happens to be afraid of dogs and having chanced upon one, Nanami saves him from it. She tells him her story and pittying her circumstance, as well as thinking of way to repay her kindness, Mikage gives Nanami his house. He draws her a map showing where to go, to which Nanami accepts with gladness, as she has nowhere to go.
When she arrvived through Mikage's directions, she found out that his place is a forgotten shrine. She encounters Tomoe, who was expecting Mikage to return after running away for 20 years. Onikiri and Kotetsu greets Nanami and declares her as the new land god of the shrine. But Tomoe, in his great dislike, decides to leave the shrine. Magically, the place turns into a rundown at his absence. Nanami, not wanting to take Tomoe's home, she seals a contract with him and he becomes her familiar.
Suzuki has launched the manga in the Hana to Yume magazine back in 2088, and Hakusensha has serialized its 11 volumes. Viz Media licensed the regional distribution of this title in North America in their Shoujo Beat publication.