J-Pop Girlband Fairies Gets Manga Adaptation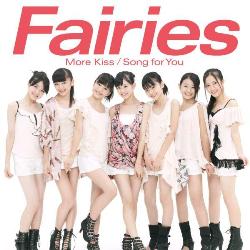 The year 2012 is a busy year for adaptations, from manga to anime and anime to live-action. This news however brings a fresh and unique twist to renditions: Japanese girl group Fairies (フェアリーズ) will be given a manga adaptation of their group!
Composed of seven members, Fairies is perhaps Japan's youngest singing and dancing act; their age falls in the 13-15 age bracket. The group was formed in the year 2011 under a sub-label of Avex. Shimomura Miki (下村実生), Hayashida Mahiro (林田真尋), Kiyomura Kawane (清村川音), Ito Momoka (伊藤萌々香), Fujita Miria (藤田みりあ), Nomota Sora (野元空) and Inoue Rikako (井上理香子) are the talented teens that make up Fairies.
The news of having their own manga was announced at Ikebukuro, Sunshine City, during the release event of their third single entitled "Beat Generation/No more distance". The dance-themed manga will be released on the August 4th issue of Margaret (マーガレット), a biweekly teen Japanese shoujo manga magazine.
Sawano Yuji, editor-in-chief of Shueisha Inc., has planned to make this manga when he learned of the news that dance will be introduced as a compulsory subject for Japanese high school students nationwide. "When I heard the news, I started to feel agonized thinking about whether I could make a dance manga. Fairies, who display wonderful dancing, are perfect as the heroines. I will do my best to make this a manga that will make readers think, 'dance is fun'." Sawano said.
The story of the manga revolves around junior high school girls, who are inspired by Fairies, to chase their dreams of becoming dancers. Fans of Fairies should watch out for the release of the manga. In the meantime, check out their single Beat Generation below.