Ishida To Asakura Gag Anime Premiering this January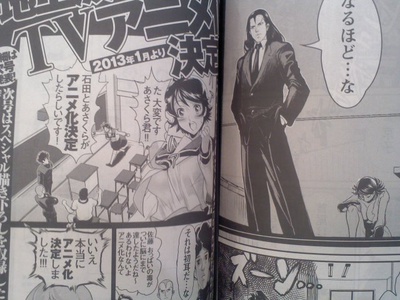 January 2013 seems to boast of many fresh, new anime titles for the fans to watch and love! We've heard of action packed, battle themed series; mysterious detective stories and romantic comedy plots, just like this one we're about to feature now. The Sjonengahosha's January 2013 issue for their Monthly Young King magazine had just announced that a television anime adaptation of Ishida to Asakura gag series is now being prepped up to be launched next January.
Masao, creator of Ishida to Asakura comedy series, has been popular on the Japanese art community Pixiv, before properly debuting as a mangaka with his own comic series. Ishida to Asakura were first launched into a voice drama that was featured in the Japanese version of Youtube, Nico Nico.
The manga first debuted in the Young King Magazine, as well as the Monthly Young King in 2011. The story ended just after 15 installments of the series, in the September 2012 issue on July 19. The publication company Shonengahosha will print the second compiled book series along with the unpublished ending this December 19.
This fictional manga centers about a group of young high school boys and their friendship. This will involve various themes which the youth can be associated today, such as romance, schoolwork and brotherhood.
As for the details of the characters, very few information was leaked. However, we do know that one of the lead characters, Asakura, aims to become a teacher at girls' school in the future, and Ishida aims to become a florist along with Asakura. Rather odd dreams, isn't it? We'll get to have a bigger peek of these characters once official details are released.
You can also watch out for the February 2013 issue of the magazine Monthly Young King, for they are going to bundle a booklet including an exclusive manga, in order to celebrate the anime adaptation.