Inari, Konkon, Koi Iroha Anime In the Works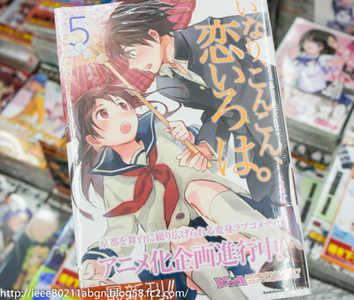 There's a new romantic comedy anime in town, and it's going to be included in the great lineup of projects coming to you this 2013. Now, what's a light love story without a bit of sparkle from your daily magic, prayers and wishes? That what makes it all work here in this next feature story we're bringing to you.
Readers have been pleasantly surprised to see the wraparound jacket band on the 5th volume of the romantic comedy manga Inari, Konkon, Koi Iroha that an anime adaptation is in the works. This title is created by Morohe Yoshida and the news was announced on Saturday. Here, we're adding another slot to our roster of favorite shoujo animation which features lots of mythical creatures, school life and love. The manga itself boasts of a fun storyline which is handled in a light novel romantic comedy theme.
Inari, Konkon, Koi Iroha centers on Inari Fushimi, a timid, average middle school girl who lives in the Kyoto Fushimi ward. She's not so bright, and definitely not so popular, that is why she's having a hard time to blurt out her true feelings on Tanbabashi, a classmate whom she is terribly in love with. The most popular boy in school, Tanbabashi is the athletic type, which makes him even more famous and charming. Inari is content to watch him from afar and grow closer naturally, but things have been nettled as Tanbabashi seems to be gazing at the school's most popular girl, Suminoe.
While trying to push her relationship with Tanbabashi, Inari stumbles over a blunder which worsens her ties with her crush, something which was the cause of him ignoring her completely. Desperate now, Inari goes to a shrine to meditate, where she encounters Uka no Mitamano, a fox goddess, and had granted to make an intervention in the girl's case—allowing her to change her shape at her will.
Inari, Konkon, Koi Iroha has been serialized in 2010 in Young Ace magazine and the series is still ongoing.