Hunter x Hunter Manga Makes A Comeback In Shonen Jump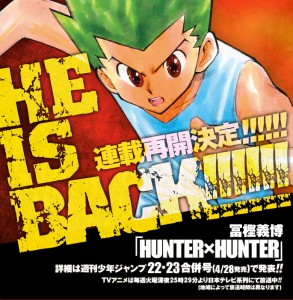 Fans of Hunter x Hunter (ハンターハンター), rejoice! HxH creator Yoshihiro Togashi (冨樫 義博) is back and the series will be making its grand return in Weekly Shonen Jump (週刊少年ジャンプ)! Publishing companies Shueisha (株式会社集英社) and VIZ Media have made this announcement on Tuesday and the series will be both available in Japanese and English. How cool is that?
Hunter x Hunter follows the life of young, happy-go-lucky Gon Freecss (ゴン=フリークス). Growing up, Gon believed that his father has been long dead so it came to him as a big surprise when he found out that his father is indeed alive and is a widely known Hunter. Hunters seeks treasures, rare animals, surveying distant lands and of course, hunting down criminals. Gon follows his father's footsteps and hopes to become a Hunter himself. Joining him on his adventures is the quick-witted Killua Zoldyck (キルア=ゾルディック), Kurapika (クラピカ) of the Kurta Clan and Nen-user Leorio Paladinight (レオリオ=パラディナイト).
The latest Hunter x Hunter chapters will be released on June with more details to be given out on the combined issue of issues 22 and 23 issue of Shonen Jump on April 28. Missed out on chapters 1 to 32? Worry no more! Head on down to the VIZ Media website to get your fill of Hunter x Hunter.