Jump Festa 2014 Brings Hunter X Hunter Goodies For Die Hard Fans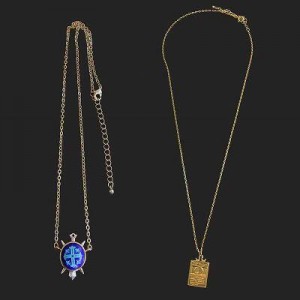 Hunter x Hunter (ハンターハンター) is still a fan favorite since its first debut as a manga in March of 1998 and with the series still ongoing, both for the manga and anime, Hunter x Hunter still rakes in more fans as the story progresses and Jump Festa (ジャンプフェスタ) is giving fans both new and old a chance to snag authentic HxH goodies at the Jump Festa 2014!
The highlights of the Hunter x Hunter goodies, brought to you by VAP, are the jewelry inspired by the Blue Planet and Paladin's Necklace from Greed Island (グリードアイランド). In the world of HxH, the Blue Planet is a blue gemstone Biscuit Krueger (ビスケット=クルーガー) has her sights on. The gem, which she obtained after clearing the game, appears like a tiny model of a planet: spherical in shape and reflects light in such a manner that the gem appears to have the surface of an atmosphere. On the other hand, the Paladin's Necklace protects its bearer from attacks as well as reverses curses. Gon Freecs (ゴン=フリークス) owned the Paladin Necklace and its use was notable when the young hunter used the item to remove the illness of the Sick Villagers brought restored their health. This resulted in obtaining the Wild Luck Alexandrite.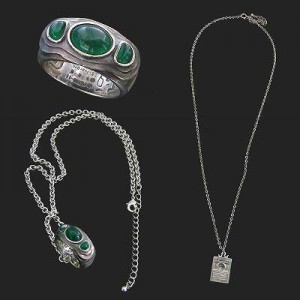 The jewelry are made from Sterling Silver and are sold for only 14,286 JPY (138.82 USD) each. Other items to be offered in Jump Festa 2014 include an Association Chairman Isaac Netero (アイザック=ネテロ) t-shirt priced at 2857 JPY (27.76 USD) and Hunter x Hunter clear files for only 333 JPY (3.23 USD) just among many others! Read more on these drool-worthy collectibles at the VAP website!