Hit Manga BTOOOM Gets Anime Adaptation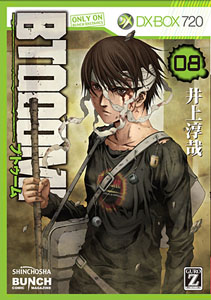 Anime studio Madhouse has recently announced that the popular illustrated novel BTOOOM will have its own animation adaptation. On June 8, the studio has stated that the production for this project has been green-lit. The manga is written by Inoue Junya and was originally serialized in the Weekly Comic Bunch since July 2009.
The story trails after the lead character Ryouta Sakamoto, a member of NEET and a skilled player in the online combat game BTOOOM! He was a top-player at the game that other players found it hard to beat him. However, it was a surprise when he wakes up one day on a tropical island, in the middle of an unknown see—not knowing how he got there, he tries to find some help until he sees a vague figure in the distance. When he tried to ask for assistance, the figure throws a familiarly dangerous item at him—a BIM bomb, only found at the world of his BTOOOM Game. It is then when he realizes that his life is in danger as he enters the world where he only digitally played in.
Kotono Watanabe, a first time series director, takes the lead in this project. Yousuke Kuroda of Hayate, the Combat Butler, Hellsing and Mobile Suit Gundam 00 will be writing the script. Kishida Takahiro will take on the design of the characters and Madhouse will produce the new animation.
Junya Inoue is known for his alias, Joker Jun. Born in 1971, he worked as a graphic director in the game industry for a decade. His experience in working for the Chrono Crusade manga gave him the motivation to be a mangaka, to which he debuted in 2001 with Otogi Matsuri. BTOOOM is his latest work and is continually serialized under the Monthly Comic Bunch. Shinchosa Publications is said to be releasing the 8th compiled volume this June.