Hisashi Suzuki's Magical Warfare Animation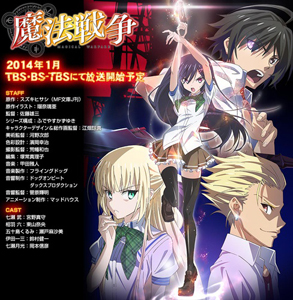 Comic Alive official Twitter account has announced that anime adaptations for five of the MG Bunko J light novel titles have been green-lit, including Hisashi Suzuki's Magical Warfare (Mahō Sensō). This was initially announced at Media Factory's Summer School Festival 2013 event. The official website for the anime adaptation has just announced the main cast and staff for the production.
The cast will be Mamoru Miyano as Takeshi Nanase, Nao Tōyama as Mui Aiba, Asami Seto as Kurumi Isoshima, Kenichi Suzumura as Kazumi Ida, Nobuhiko Okamoto as Tsuganashi Aiba. Directing the anime is Yuzo Sato from the series composition by Kazuyuki Fudeyasu. The animation will be directed by Rrouma Ebata as well as the character designs. Art director Jirou Kouno will be working with color key artist Koji Hamaoka. Music for the series will be done by Masato Kouda with compositions by Flying Dog. The Magical Warfare anime will be produced at Madhouse.
In the story, Takashi Nanase is an ordinary high school boy with a dark past. Because of certain situations, he has to fake a relationship with his childhood friend Kurumi Isoshima. Other than these trifles, he lies a normal life. That is until he comes across a strange girl named Mui Aiba, wearing a school uniform he has never seen before. She collapsed on the school campus and him saving her changes Takeshi's life completely.
Mui tells him that she is a magician and she had just turned him into one. Now, Takeshi must face his ordinary life and meld it with his now extraordinary life, now that he is aware that magicians live with the humans too.
Suzuku launched Magical Warfare in 2011 with illustrations from Lunalia. Media Factory published the sixth volume this August and the manga serialization was created by You Ibuki. Magical Warfare anime is set to air in January 2014.