Hataraku Maou Sama! Slated for Animation Adaptation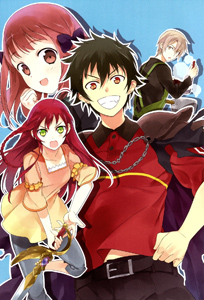 White Fox has yet another big project in their hands, as the animation studio will begin animating Satoshi Wagahara's comedy story of a demon king, who then sets aside his great power to become a Tokyo fast-food worker!
Wagahara's Hataraku Maou Sama! is a fantasy light novel series that will get its own anime adaptation, premiering next year. Naoto Hosoda will be directing the production at White Fox and Atsushi Ikariya will be adapting the original novel illustrations created by 029. Masahiro Yokotani will be in charge of the series scripts.
The cast will be played by Ryota Ohsaka as Sadao Maou, aka the demon king, Yoko Hikasa as Emi Yuasa, also the heroine Emilia who is set to destroy what the demon king has planned. Chiho Sasaki will be played by Nao Toyama and Yuuki Ono will play Shirou Ashiya, the demon general Arushieru.
Hataraku Maou Sama! trails after the story of Sadao Maou, who is actually the demon king. He is just one step away from conquering his alternate world, and in order to finish what he has started, he was transported to Tokyo. Having nothing, he ends up being forced to work as a part timer in a fast food restaurant in order to make ends meet. To conquer Japan, he has to move up from a freelancer to an actual employee. But his journey is spiced up with the heroine Emilia running after his pursuits.
Wagahara has launched the Hataraku Maou Sama! light novel series as his first work. Kadokawa published this manga and will release the 6th volume on October 10. Hataraku Maou Sama! has already won the Silver prize in the 17th Dengeki Novel Awards. A manga adaptation by Akio has been published in the ASCII Dengeki Works Comic Dengeki Daioh. Get the first peek into the demon kings mis-adventures in his arubaito here in this preview: