Haruna Kawaguchi Leads Cast for Zekyou Gakkyuu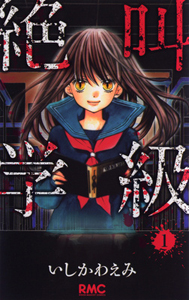 It has been revealed that Ouran High School Host Club's Haruhi and GTO 2012's Miyabi will star in the live action adaptation of Emi Ishikawa's horror manga, Zekyou Gakyuu (Screaming Lessons) made for film. This project will adapt the story "Yomi no Shinjitsu" (Yomi's Truth) taken from the series' third volume and the "Ningen Rank" (Human Rank) taken from the story's eight volume.
The cast includes Alice Hirose, Mayu Matsuoka, Haru and Misuki Yamamoto. Kawaguchi will play the role of Kana, a girl who used to be the idol of her class in elementary school. She was the queen of her class, where she achieves the best deportment at every subject. However, as she enters a new life in a private middle school, Kana lost all her pride as she ranked average in grades, athletic ability and even in parentage.
Now, an urban legend in the school reveals that anyone who discovers Yomi (played by Yamamoto) at an old school building can ask this spirit for a wish. However, Yomi is a horrific creature without legs, leading through a world of sorrow and terror. She slumbers in the midst of everyday life, but keeps her eyes open on the unsuspecting. She raves about on the desires of people's hearts, and anyone who is foolish enough to deal with her will experience terrible things.
Yomi can grant Kana's wish, but on exchange, she must take something important. Kana relents, just to have her selfish wish come true—to be the top of her class once more. The next day, Kana is surprisingly accepted into the group of the school's most popular girls. However, as a result of the deal, her friend Hirose (played by Rio) starts being bullied.
The original manga by Ishikawa follows the ghost girl Yomi and narrates to the readers a series of scary stories. Ishikawa serialized it in 2008 and the 13th volume will be shipped in Japan on February 15. This film will open in Japan early summer.