Hajime no Ippo 3rd Season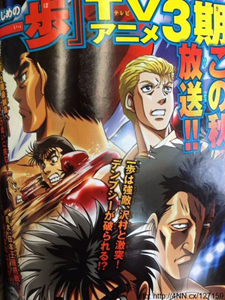 George Morikawa's popular boxing novel is about to take another round, not on the ring, but on your TV screens. The 34th issue of Kondansha's Weekly Shounen Magazine has just disclosed that Hajime No Ippo (はじめの一歩) is green-lit for a third serving. The anime is scheduled to start airing fall of 2013 in Japan.
In the announcement ad, one can read the headlines "Ippo Fights the Formidable Enemy, Sawamura! Dempsey Goes Down?" This is enough preview to excite the anime fans locally and internationally, especially those who loves the sport.
Morikawa has written and illustrated this series, which was serialized in the Weekly Shounen Magazine since 1989. The title has over a hundred tankobons to date. Hajime no Ippo follows the story of Makunouchi Ippo, a high school student who keeps to himself and often bullied. However, it is when he met Takamura Mamoru, a renowned boxing champion that Ippo decided to be stronger. He then joins Kamogawa Gym to be trained into one of the greatest boxing champions in Japan. From then on, Ippo learned the one thing which he lacks—a fighting spirit, and thus began to work his way from his ground up.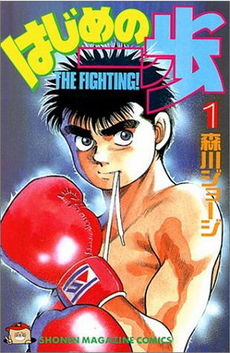 Animation studio Madhouse, Nippon Television and VAP produced a 76-episode anime series with the title Hajime no Ippo: The Fighting. The anime ran from October 2000 to March 2002. An original video animation and a movie were also inspired from the title. A second season of the series ran on January 2009 and ended on June of the same year. Presently, Kodansha is publishing the manga locally in Japan, and will be releasing the 104th compiled volume next month.
Hajime no Ippo has been released in North America and other international regions under the title of Fighting Spirit.