Monkey Punch Inspired Characters in Ginroku Gijinden Roman Anime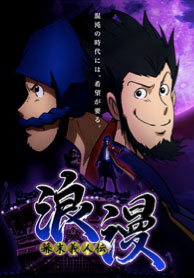 Nippon Columbia, a music company, has recently revealed more details about a new animation in the works. On Thursday, the company discloses that Ginroku Gijinden Roman, a popular pachinko game that has the original designs by Lupin III artist Monkey Punch, will be having its own television anime series and will hit the local small-screen on January 7, 2013.
Ginroku Gijinden Roman will feature Monkey Punch's familiar character handwork; elaborate and long hands and feet, sheepish grins and a smart aura that seems to be ready for adventure. Fans of the artist's original series, Lupin III, may find the lead character's many reminiscent features to this anime. However, this new series promises a new, refreshing atmosphere, which dates to a historic period in Japan's existence.
The game's plot follows the trails of Roman, a mysterious thief who works at night in the period of Genroku, dating from 1688-1704. The anime itself will shift to the timeframe of the Bakumatsu Period, the era that has declared the end of the shogun's powerful dynasties all over Japan.
Nippon Columbia artists will be contributing to the soundtrack of the said series. Yukino will perform the opening song titled "RanTiKi", while Hige will do "Zarathustra," the ending some for the anime. This anime will premiere on TV Tokyo, on a Monday (effective on Tuesday in some countries). It will also run on TV Tokyo's sister stations, and also on AT-X.
Hirofumi Ogura will be directing this series on TMS Entertainment, and Tatsuo Higuchi will be heading the series scripts. Satoshi Hirayama will adapt Monkey Punch's designs, and Hiroshi Takaki will score the music. The characters are listed along with their voice actors.
Kazuya Nakai as Roman
Eri Kitamura as Koharu
Kenichi Suzumura as Magoichi
Maaya Uchida as Okuni
Chihiro Suzuki as Yasuhiro
Saori Sudo as Kana
Takashi Matsuyama as Hans
Kenichi Ogata as Gennai
Fumihiko Tachiki as Yanagisawa