Gingitsune Promotional Ad Streamed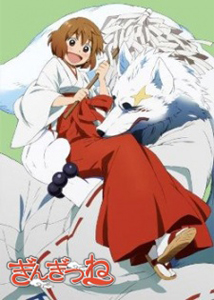 The television channel for AT-X has recently streamed the new ad for the Sayori Ochiai's Gingitsune (ぎんぎつね, Silver Fox) anime adaptation. The opening theme song for the anime "tiny lamp" was also previewed along with the video. Gingitsune is Ochiai's fantasy slice of life series which depicts the life of a girl who can see a shrine's messenger and trails after how these two can become a go-to between deities and humans.
In the story, Makoto Saeki lives in a shrine built in honor of Inari. Her mother died when she was very young, but this only marked her as the sole heir to the shrine. Her father manages the shrine, but Inari's messenger, a silver fox named Gintaro, suddenly appears and declared the girl as the true successor. Unfortunately, Gintaro is quite lazy and usually unmotivated. He has great power to help people, if only he will be moved by them. The series describes a hear-filled fantasy story between the little girl and the powerful deity, who has the ability to help those who come to the shrine and make new friends.
The voice cast features Hisako Kanemoto as Makoto Saeki, Shinichiro Miki as Gintarō, Toshihiko Seki as Tatsuo Saeki, Ami Koshimizu as Hiwako Funabashi, Chinatsu Akasaki as Yumi Ikegami, Ayumi Fujimura as Haru, Kensho Ono as Satoru Kamio, Kazuhiko Inoue as Kinjirō, Tomokazu Sugita as Seishirō Kirishima, Hirofumi Nojima as Shinichi Yoshizumi, and Tomokazu Seki as Shōhei Amamoto.
Noboru Misawa will be directing the anime at the production studio Diomedea. Hiroshi Yamaguchi is managing the series scripts and the characters will be designed by Mayuko Matsumoto and Naomi Ide. The series will start airing on TV Tokyo on October 6 at 1:05 AM.
The show will run on TV Osaka and TV Aichi along with AT-X channels. Gingitsune will be streamed by the popular online anime channel, Crunchyroll, under the title Gingitsune: Messenger Fox of the Gods.