Gifū Dōdō!! Kanetsugu to Keiji Anime Streams TV Ads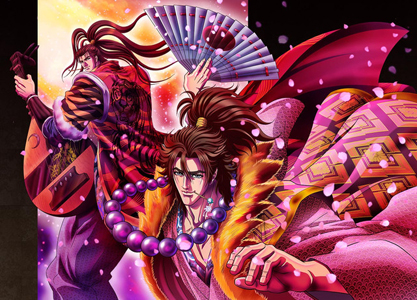 Comic Zenon's official channel has begun streaming two television ads for the upcoming Gifū Dōdō!! Kanetsugu to Keiji anime. One is a 30 second ad, while the other runs in 15 seconds. The commercials reveal the series' cast and staff, featuring the theme song "Samurai Rock ~ Gifū Dōdō!! ~ version" by Kouji Kikkawa. Kikkawa is known to have played the live action Rurouni Kenshin's Jin'e Udo.
Gifū Dōdō!! Kanetsugu to Keiji will star Daisuke Namikawa as the historical samurai Naoe Kantsugu and Takuya Sato as Maeda Keiji. Kikkawa will not only sing the main theme song but will also narrate the story as well.
Bob Shirohata will be directing the Gifū Dōdō!! Kanetsugu to Keiji series at Studio DEEN. Yasuhiro Imagawa will be writing the scripts, while the original manga's co-creator Tesuo Hara will supervise the production of the anime. Masaaki Kanan is in charge of the character designs, and KAZSIN will be scoring the music. Makoto Shiraishi serves as the program manager for this upcoming anime.
The magazine Comic Zenon has already announced in April that a television anime production of Tetsuo Hara's historical manga Gifū Dōdō!! Naoe Kanetsugu –Maeda Keiji Sake Gatari- has been green lit. this story follows the adventures of the true to life samurai, Naoe Kanetsugu.
Naoe Kanetsugi is a Japanese samurai who existed between the 16th to 17th centuries. He is the eldest son of Higuchi Kanetoyo and has worked for two generations as a retainer of the Uesugi Daimyo. Kentsugi is known by his court title Yamashiro no Kami, and also in his childhood name, Higuchi Kanetsugu, where his family name is indicated. Kanetsugu first served as a kosho to Uesugi Kenshin. When Kenshin died, he served Kagekatsu, the adopted son of Kenshin.
The series will debut on July 2 on TV Tokyo.