Gender Switching Plot Gets Manga Spin Off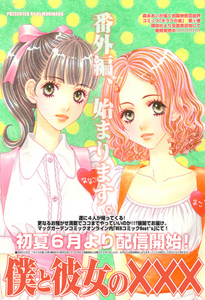 Japanese manga artist Ai Morinaga gets to re-launch her romantic comedy series Your & My Secret (僕と彼女の×××, Boku to Kanojo no XXX).
The story, which originally ended in the September 2011 issue of the popular comic magazine Mag Garden, is set to be seen again in the magazine's ages starting this June. As based from the promotions, the spin-off series will highlight the four main characters from its original plot. Its first run lasted for a decade and was published in eight volumes. Your & My Secret is the same manga which inspired the live action adaptation of Masaki Hamamoto, featuring Mai Takahashi and Shun Shioya in the lead roles, Nanako Momoi and Akira Uehara respectively.
The initial story was based around two high school students, Akira Uehara and Nanako Momoi. Nanako Momoi is a pretty, petite girl; but cruel and mean in nature and acts tomboyish around her classmates. Akira Uehara on the other hand, is a complete opposite, acting demurely and silent. He secretly watches over Momoi as he has a crush on her, and finds her missing one day. Volunteering to bring her the homework, Uehara crashes into Momoi's house, where he discovers a strange experiment that will change his live forever.
As it turns out, Momoi's grandfather is a mad scientist and is bent on using his own granddaughter for his experiment. Intending to save her, Momoi managed to persuade her grandfather to take Uehara instead of her. An accident happens, unfortunately, where the scientist presses a wrong lever and putting both Momoi and Uehara into the risk. The two exchange bodies, to their surprise. The two struggles to bring their bodies back, although switching may prove to be difficult, now that the two of them are starting to like their new characteristics.