Gag Series Grandpa Danger Gets Anime Adaptation After 7 Years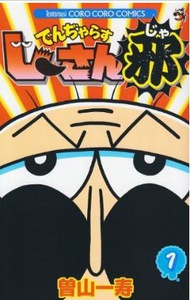 Kazutoshi's absolutely funny yet endearing series Grandpa Danger (Zettai Zetsumei: Denjarasu Jii-san), is now slated for an anime adaptation production. The television channel KIDS STATION has just recently listed the series to receive a television anime project which starts next month. Kazutoshi Soyama has created this adventure manga, published by the local publication Shogakukan in the CoroCoro Comic since October 2001. In 2005, it has received the Shogakukan Manga Award for children's manga category.
The series was so contagious that it was adapted into a 51-episode anime project which was broadcasted on TV Tokyo from April 2004 until March 2005. Now, after seven years, Grandpa Danger is ready to come back in the small screen to hit those funny belies and create a big laugh in his no-nonsense adventures.
Shakugan no Shana's Takashi Watanabe will be directing the anime series at the J. C Staff productions, and Masahiro Ando of Maple Town Stories will handle the character designs. The first two episodes are set to be aired on October 20 at 4:47 AM and 4:53 AM, whereas two more episodes will air at the same time on the next Saturdays.
Grandpa Danger focuses on a relationship between a funny grandfather and his grandchild. Daiki Nakamura will take the lead role in the anime as the Dangerous Grandpa, and Ayumi Tsunematsu will play the role of his grandchild. Shigeru Chiba will be voicing the character of the principal, while Tetsuharu Ohta will take on the role of Gebe. My Ordinary Life's Hyadain will be producing the theme song and the show's music.
Production companies Sho-Pro and J.C. Staff have produced a 25-minute OVA adaptation of the manga, which was especially bundled along with a limited edition issue of the CoroCoro Comics in July. Hear the latest news about this series and more, only here at Asgard!