Gag Anime Glass No Kamen Remake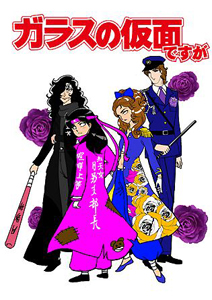 As announced, Suzue Miuchi's Glass no Kamen shoujo romance comic is getting a new spin this April. Glass no Kamen is the story of Maya Kitajima and her devotion to become a professional stage actress. Her skilled ribal, Ayume himekawa, aims the same dream as hers. Both of them are pursuing the same degree of career and acting proficiency which is required to play the role of a legendary stage play called "The Crimson Goddess."
Maya is not so much of a beauty or a smarts, but her acting is an all-consuming passion, putting her life on the line for the sake of her role. On the other hand, Ayumi is a gifted and multi-talented girl who is foreseen to succeed.
The manga has already inspired a television series which was broadcasted in 1984, and a television remake running from 2005 to 2006. A three part video series was made in 1998, with 49 volumes of manga reaching worldwide. Miuchi launched the series in 1975 and the reception was in no doubt, warm and well appreciated.
Putting more comedy on this famous sweet girl love story, the makers will re-imagine the story along with the main characters Maya Kitajima and her best rival Ayumi Himekawa. Both will now be dubbed as yankee girls who both wishes to be the leader of a gang called "Crimson Goddess." But take heart; the remake won't last for long. The new anime series will be of 3-minuete shorts, airing every Sundays on the channel BS12. The project will start on April 7 and will have a total of seventeen episodes.
DLE, makers of Thermae Romae, will put the whole new twist in the story. The production is known for making parody versions of classic manga, such as Lupin Shansei, a derivation from Lupin III. The character designs are hosted by Mainichi Shimbun's Mantan Web.