G-Shock Releases RX-78-2 Gundam Inspired Watch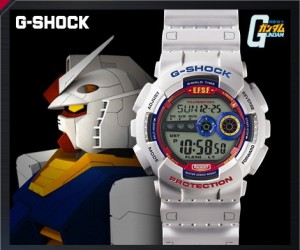 G-Shock is back with their second Mobile Suit Gundam (機動戦士ガンダム) collaboration and this time, the watch boasts the immortal colors of the first ever Gundam, the RX-78-2. This awesome collab came about as a part of the 35th anniversary celebration of the series.
The watch boasts the white, red, blue and yellow colors of the RX-78-2. Just like the Gundam it is modeled after, the GD-100 Casio is predominantly white with red, blue and yellow accents. The water resistant, shock proof Gundam G-Shock is engraved at the back with a side-view image of the RX-78-2.
The RX-78-2 made its debut in Mobile Suit Gundam. This Gundam falls into the hands of Amuro Ray (アムロ・レイ) who desperately needed help when a member of the Zeon reconnaissance team attacked the colony he is a part of. As the signature model and the poster boy of the Gundam series, the RX-78-2 has made several appearances in media as well as anime-based merchandises. The RX-78-2 Gundam also towers in front of the Grand Pacific Le Daiba hotel in Odaiba, Tokyo, Japan as a life-sized statue.
The Gundam x Casio G-Shock watch has surprisingly sold out within the day of its release but fret not, they just might restock again! Visit the LalaBit Market frequently to check out for updates. The Gundam x Casio G-Shock is priced at 18,000 JPY (176.89 USD).