Fumiko no Kokuhaku Creator Collaborates for New Anime Projects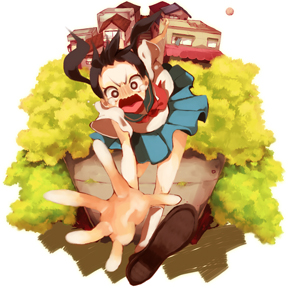 Fantastic Children, Catnapped! the Movie animator Takashi Nakamura collaborates with Hiroyasu Ishida, a former animation student who is the genius behind the worldwide online hit Fumiko no Kokuhaku (Fumiko's Confession). Both will be working with Mode Films Inc and Studio Colorido for two new animation projects. Just recently, Studio Colorido had streamed a 46-second trailer for the new works on Thursday.
This promotional video notes that the projects are currently in production, and both of the titles will be released at the later part of 2013. Ishida's new work is Hinata no Aoshigure, and Nakamura's new work is Shashinkan.
Ishida is known for creating anime shorts. He has studied in the animation department of Kyoto Seika University's renowned Faculty of Manga. At the success of Fumiko no Kokuhaku, Ishida has worked for at least two years along with his fellow student Shogo Yoshida, on another anime short. The concept is "rain town" and this was created as their graduation project. Rain Town won the grand prize in the 9th Independent Animation Festival held at Mitaka, Japan last 2011.
Within the same year, Rain Town also won the Excellence Award, STUDIO4℃ Award, and the Ghibli Museum Award at the 7th Kichijoji Animation Film Festival in 2011. It is the second year which Ishida won the grand prize consecutively. Fumiko no Kokuhaku won the grand prize in 2010 under the same event.
Fumiko no Kokuhaku is a story about a young school girl named Fumiko, who had just confessed her love for the boy she liked. Unfortunately, she gets turned down because the lad aims to concentrate on his athletics, being a part of the school's baseball team. The funny little anime short depicts Fumiko's scenes as she cried and ran downhill through the town, with her upset feelings. She gains more and more speed as she ran, and the shorts ended a surprisingly humorous finale.
Both Ishida's and Nakamura's animation projects will debut this year. Studio Colorido has not revealed in particular what these anime works will be.