First Outer Senshi Makes An Appearance In S.H. Figuarts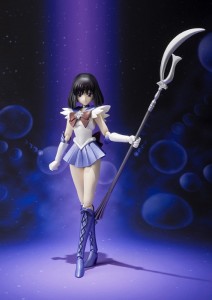 The mysterious Outer Senshi are starting to surface to complete Bandai's line of Sailor Moon S.H. Figuarts collectible figures and the first one to come out is the Sailor of Death, Destruction and Revival, Sailor Saturn (セーラーサターン).
The Sailor Saturn figure was announced in Bandai's website and is scheduled for release on August of 2014. Her figure comes with her signature weapon, the Silence Glaive (サイレンス·グレイブ) together with different facial expressions as well as extra hands. Of course, the Sailor Saturn S.H Figuarts is fully posable so you can let her swing her Glaive all you want in any pose possible.
Hotaru Tomoe (土萠 ほたる) is silent and often times misunderstood. Her lonely world brightens up after Chibiusa (ちびうさ) befriends her. As Sailor Saturn, she is feared for her powers of destruction. With a swing of her Silence Glaive, she has enough power to destroy a planet and yet restores it to its former glory. Sailor Saturn has died both in the anime and manga and has been reborn in both series respectively.
Sailor Saturn is priced at 4,860 JPY (47.37 USD) and some online hobby shops are already accepting pre-orders. Visit your favorite hobby shop and leave your pre-order now before it's too late!