Faulty Romance Nisekoi Anime Series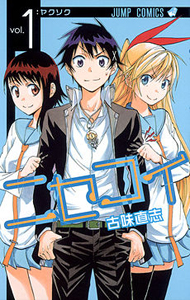 We love a little romance here and there, and this new series just got us sparked up for another slice of rom-com, anime style. It was just announced that Naoshi Komi's Nisekoi: False Love, is getting its television animation. The manga was published as a one-shot storyline in Shueisha's seasonal Jump NEXT! Magazine. It was serialized in Weekly Shounen Jump afterwards. Six volumes have been compiled and released as of March 2013.
But unlike your normal high school romance, this involves a lot of pretense, fighting and Yakuza! The story starts with Raku Ichijo on his childhood days. He made a secret promise with his little sweetheart, keeping a pendant as a memory, while his girlfriend took the key. As he grew, he dreams of one day meeting her once more. Years passed and there was no sign of her, and the only fated encounter he had was when Chitoge Kirisaki accidentally hits him on the face.
Raku isn't a normal boy—his family heads the notorious Shuei-gumi! One day, he is dragged into family affairs as he is forced into a relationship with the rival gang's boss' daughter—who is no other than the girl who hit him recently!
Even with their bickering, the two managed to fool everyone with their pretense romance. That was until when Raku discovers Chitoge has a mysterious key from her past, which she can't remember. Can she be his little sweetheart? Unfortunately, two other girls pop into the scene having the same keys—Kosaki and Marika!
Caught within girls, keys and family affairs, will Raku be able to find his lady love in spite of this confusion? Especially now that a play about Shakespeare's Romeo and Juliet is coming up; will he and Chitoge be able to pull through as realistic lovers and make this play successful?