Fate In The News: Sexy Male Cushions, Another Cutie Saber Figure And The Sakura Clones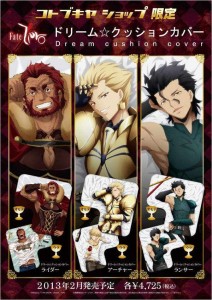 Regardless if it's Stay Night, Zero or EXTRA, fans still clamor for more of Type-Moon's (タイプムーン) Fate series. Kick starting Asgard's Fate in the news is this seeminlgy harmless bit of information that could launch a thousand ships full of women.
For a hard core otaku girl, sleeping beside your anime/manga crush is a fantasy one could kill for. If you have a thing for Rider Iskander, Lancer Diarmuid Ua Duibhne, Archer Gilgamesh or all three of them, now is your chance to form your own reverse harem! Kotobukiya will be releasing these dream cushion covers on February2013 for only 4725 JPY (58 USD). They guys are designed in a way that you will be able to sleep on the crooks of their arms. They come in both their casual clothing and battle armors.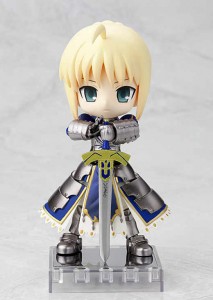 Another Fate item that both the girls and the boys can definitely enjoy is another Kotobukiya offering called the Cu-Poche, staring none other than Saber.
Kotobukiya's Cu-Poche is a poseable chibi figure similar to that of Good Smile Company's Nendoroid and Bandai's Chibi-Arts. Kotobukiya is now accepting pre-orders for this lovely little Saber for only 3990 JPY (48.44 USD) and will be shipped on January 2013. If this deserves to be part of your Fate collection, add it up by placing your order now on Kotobukiya!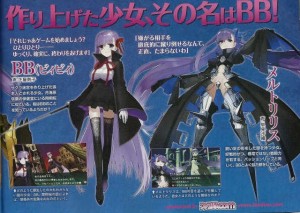 For those living under a rock, Fate/Extra (フェイト/エクストラ) is a dungeon role playing game developed for the Playstation Portable. Following Fate/Extra is Fate/Extra CCC and news have sprung that there are characters appearing in the said game that look like Fate/Stay Night's Sakura Matou (間桐 桜).
The first Sakura clone is called BB, the creator of the Sakura Labyrinth with mysterious origins. BB is voiced by Noriko Shitaya. Another Sakura variation is Melt Lilith, a fighter voiced by Saori Hayami. The third and final outrageous version of Sakura is Passionrip, a seeminlgy friendly character who suddenly turns around to attack when commanded by her "Mother".