Exit Tunes Unleashes a New Vocaloid Character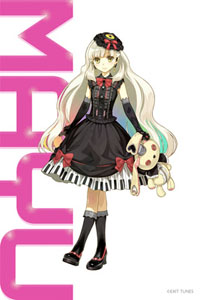 Watch out, Hatsune Miku Fans! The music studio Exit Tunes had just unveiled the newest part of the vocaloid family. In celebrating its 10th anniversary, the label held an event in Saitama on May 6 and has released a teaser website for the new character which they named Mayu.
The new character possesses grace and mystery, with her light colored locks and deep-red gothic Lolita appeal. Her mid-length skirt boasts of a piano keyboard, indicating her musical passion. Mayu's overall character greatly describes the music which she is about to sing. Hidari, an illustrator, created the character design which highlights the personality of a "Yandere." In local terms, a Yandere is a person who seems gentle at the first glance, but is in truth, mentally unstable and more often violent. Mayu is a middle school student, and the website which released teasers for her arrival offers wallpaper downloads for computers and mobile phones.
Mayu will be joining other vocaloid idols, including the prominent singer Hatsune Miku. Kagamine Rin / Len and Megurine Luka are also known vocaloid singers and their images have swept the illustration and the cosplay world. Just like these singing idols, fans can now use Mayu's image and name for other projects, such as merchandise, goods, clothing, food, games and even cosplay. Her character is also open for fan works and doujinshi even without asking copyright permission from its label Exit Tunes. This is with the exemption of the original illustration as well as the logo.
Mayu will be singing her first song, Kami Uta, and the music video was released at the Exit Tune's 10th anniversary. The song was composed by DJ UTO, boasting of Mayu's delicate voice. Additional details are about to be announced soon. Keep an eye on this mysterious vocaloid, and see how she can sweep the hearts of vocaloid lovers from around the world!