Dublin To Screen Evangelion 2.0 and Eva 2.0 in March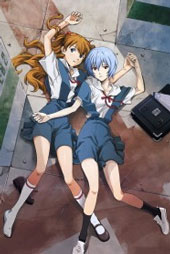 Dublin's Irish Film Institute is to show Evangelion 2.0 You Can (Not) Advance and Summer Wars (Eva 2.0). The two-day festival in March will feature Evangelion 2.0 on 20 March, and Summer Wars on 21 March.
Evangelion 2.0 You Can (Not) Advance is the second film in the remake of the Neon Genesis Evangelion TV anime series. A group of 14-year-olds with giant biomechanical units protect Earth from mysterious Angels. It originally opened June 2009 in Japan.
Summer Wars features a modern family on a midsummer adventure in a light-hearted story of "action entertainment", which originally opened August 2009 in Japan.