Go Super Saiyan With The Dragon Ball Z Hair Wax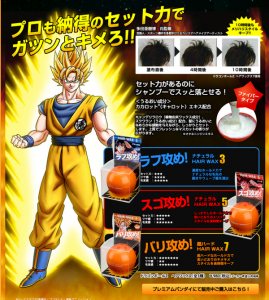 If you've been a long time fan of Dragon Ball Z (ドラゴンボールZ) and you've always pretended to go Super Saiyan (超サイヤ人) while fixing your hair in front of the mirror, Bandai is now giving you the chance to am up your feels with the Dragon Ball Z Hair Wax!
The Dragon Ball Z Hair Wax is part of the Creer Beaute line of products from Bandai. If you're not so familiar with the word, Bandai's Creer Beaute is a renowned brand of anime-inspired cosmetics for adults. The Hair Wax comes in three different types (Natural, Hard and Super Hard) and is packed inside a collectible orange, star strewn Dragon Ball (ドラゴンボール). Each Hair Wax is priced at 980 JPY (9.86 USD). The Dragon Ball Z Hair Wax takes tender loving care of your crowning glory thanks to its carrot essence that keeps your locks moisturized. See? Even your Hair Wax has a little bit of Goku inspiration for it! Not a Dragon Ball Z fan? Son Goku's (孫 悟空) saiyan name is Kakarot (カカロット), a pun for the orange vegetable Bugs Bunny loves to munch on.

Get your Dragon Ball Z Hair wax now and turn your Super Saiyan mode on! Get more information on this awesome hair wax at the Dragon Ball Z Creer Beaute website.