Dragon Age: Dawn of the Seeker to Prologue a Game Sequel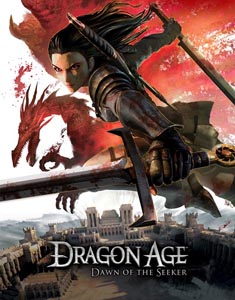 It is announced that the Dragon Age series will be releasing a new CG Film adaptation of the popular game on the big screen. Dragon Age: Dawn of the Seeker is an imminent feature film by the collaboration of BioWare and FUNimation. It has been released ion February 11 in Japan, and will be launched in Blu-ray and DVD in North America on May 29.
Staged in the medieval Dragon Age Universe, the story revolves around a Seeker named Cassandra. Wrongfully accused of massacre and treachery, Cassandra aims to clear her name while opposing against the unjust templars and the bandits called blood mages. Blessed with a pure heart yet with a brash attitude, Cassandra faces her foes with boldness to expose the concealed evil aiming to overcome the rule of the Divine, which is the land's most powerful deity.
Trailing to her past, viewers can follow Cassandra's journey as a Nevarran royal whose will is to overthrow the conspirators within the Chantry. Upon witnessing Byron helping a girl out of the clutches of prison, she then discovers the sinister plot within the most revered religious order within their land. With this knowledge, the seeker bravely sets forth against the most fearsome rulers, in order to vindicate the covert wrongs which they keep.
This movie serves as an opening to a new Dragon Age II Sequel. It is the result of the collaboration between Jeffrey Scott, the game's original writer, director Fumihiko Sori, who also has directed Ashita no Joe and Ichi; and the Oxybot Studio. Their past productions include Vexille – 2077 Isolation of Japan. Daisuke Nakayama, know for Tweeny Witches, designed the characters, while Koji Kasamatsu designed the film's sounds. Tetsuya Takahashi, whose works include Halo Legends, Resident Evil: Degeneration and Appleseed, composes the music. The film also includes a song Until the Last Day by popular rock singer Gackt.