Dollfie Dream Presents Hatsune Miku Doll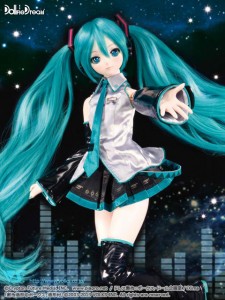 The latest addition to the famous Dollfie Dream ball jointed dolls is none other than the Vocaloid (ボーカロイド) princess herself, Hatsune Miku (初音ミク)! The announcement of having her very own ball jointed doll was first made during the Hatsune Miku Magical Mirai 2013. Not long afterward, VOLKS then followed this announcement up with their latest website update.
Standing at a good measure of 60cm tall, the creation of the Hatsune Miku Dollfie Dream was supervised by iXima. iXima is a talented artist who provided countless Vocaloid art and is credited for the Hatsune Miku V3 package art. With his keen eye for detail during the work of the Miku Dollfie, the final product is nothing short of perfection.
Hatsune Miku's Dollfie Dream version dons her default Vocaloid costume. Like her illustrated self, the Dollfie dream bears the number 01 tattooed on her left arm. Her nails are painted in a similar shade as that of her twin-tailed hair. Her glossy arm bands and skirt have been intricately detailed to give her a more robotic look. The same can be said for her thigh high boots. The Miku Dollfie also comes with
If you want to add this beautiful doll to your ball jointed doll or Vocaloid collection, the Hatsune Miku Dollfie Dream is priced at 65,100 JPY (655.17 USD) and pre-orders will begin on September 28, 2013 for the English VOLKS store. Shipping is scheduled on Fall of 2014.