Daisuke Ono and Kana Asumi Casted For Denpa Kyoshi Anime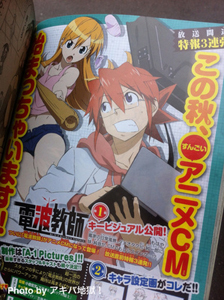 The Weekly Shonen Sunday magazine of the Shogakukan's publication has recently disclosed that popular voice actors Daisuke Ono and Kana Asumi will be casted for the anime short commercial of Takeshi Azuma's manga derivation, Denpa Kyoshi (He is An Ultimate Teacher). Ono will be playing the male lead role of Junichiro Kagami, while Asumi will be playing the role of his sister, Suzune.
The magazine has also revealed that Black Butler II's Hirofumi Ogura will be directing the project at A-1 Pictures. Zoids/ZERO's Tadashi Sakazaki will do the character designing.
Denpa Kyoshi's plot trails after the story of Junichiro, a young man who is quite obsessed with manga, anime and games (in short, an otaku!) However, his past was quite different, for he was known as a genius physicist. He was a young genius who has published papers in the popular journals Nature and Science, when he was only seventeen years old. But then, things turn around after graduating in college, where he became a NEET—a person who is Not in Education, Employment or Training.
Junichiro is absorbed in his Anime Blog, and was so lazy that he claims to have an illness that makes him do only, what he wants to do. But his sister, Suzune, despising his current situation and not wanting him to throw his life away at something so meager, she makes him work in the Icho Academy which she attends, also her brother's Alma Mater. Koyomi Hiiragi, the head of the school's board, has assigned Junichiro into his new life as a teacher.
Denpa Kyoshi has been published in the Shogakukan's Weekly Shonen Sunday magazine since late 2001, where Azuma personally draws the manga. The Japanese title of the plot literally means "Electromagnaticwave Teacher," coining the term from denpa-kei, which are notions for people who act so strange. The slang was derived from people who have claimed their actions were coming from the electromagnetic waves they have received.
The commercial for the manga will be airing around October.