Demon Gaze Video Game Gets A Manga Adaptation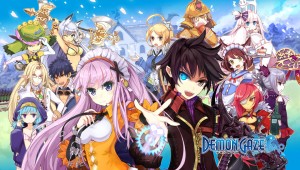 If you're a hardcore fan of the dungeon crawl Playstation Vita video game, Demon Gaze (デモンゲイズ), here's a of good news for you: your favorite game will be jumping right from the game and into the pages of a manga! The manga version of Demon Gaze will be published in the ASCII Media Works (株式会社アスキー・メディアワークス) Japanese seinen magazine, Dengeki Maoh (電撃マオウ).
If you have just tuned in, Demon Gaze is produced by Kadokawa Games and Experience Inc. It comes 1000 years after the video game Students of the Round and follows Oz, a young man who is the possessor of a magical eye that seals demons. Players can have secondary characters which allow them to assist Oz in his journey. The demons in Demon Gaze are part machine and may transform in the middle of a fight. The player also has the option to summon the defeated monsters in battle to fight for Oz.
Kurono is in charge of the manga art and will be adding new characters to the manga. Another plus is that the manga will have a fresh interpretation from the game's story.
Demon Gaze the manga will be found on the December issue of Dengeki Maoh which will be on sale this coming October 26. Grab the latest copy of Dengeki Maoh and immerse yourself in the adventures of Oz!