Cuticle Tantei Inaba Anime Reveals Cast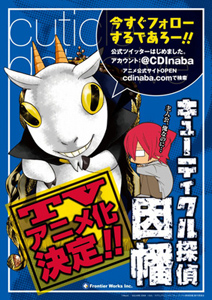 Back in August, various fliers from the 82nd Comic Market's Frontier Works booth have revealed that a new manga will be receiving its television anime adaptation. Cuticle Tantei Inaba, the title of the series, is set forth into a new media to cater anime and manga lovers alike. This manga by the artist Mochi, Cuticle Tantei Inaba, is currently serialized in Square-Enix's G Fantasy Magazine, will be appearing in your television screens by 2013.
An official website has been opened for the project, as well as its own twitter account. The story trails after the gag adventures of Inaba Hiroshi, a part-man, part-wolf, and a former secret Doberman agent who has a great hair fetish. He begins his own agency, solving mysteries of his own. The scarlet dog detective, diving into a maze filled with very exciting cases, traps, guess works and crimes! Inaba Hiroshi, this burning, red-haired doggie detective, together with his droll but efficient young lad assistants, are about to fight off the threats of an ambitious Italian mafia leader, under the skin of a goat!
The November issue of the Square Enix's G-magazine has just revealed the cast for this upcoming anime project, which includes Asami Shimada as Yuuta Sasaki, Miyu Irino as Kei Nozaki, Toshiyuki Morikawa as Kuniharu Ogino, Juurouta Kosugi as Lorenzo and Yoko Hikasa as Gabriella. The official website also reveals that Junichi Suwabe will play the title character of Hiroshi Inaba, and Toru Ohkawa will be handling the role of Don Valentino of the Valentino Mafia Family.
A dog versus a goat in a detective versus mafia adventure? Now that sounds really exciting, isn't it? however, you have to wait until January 2013 to fully enjoy Inaba's hairy, dizzy adventures. Stay tuned right here in Asgard for more updates about this anime project and other titles!