Collector Interviews: CDO's Master Collector, Rick Tidoy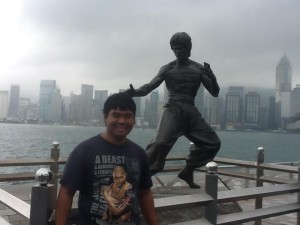 From cosplayers to photographers, Asgard Anime has interviewed them all. Or have we? Enter Rick Tidoy. He's a collector and he nearly has everything from Gunplas (ガンプラ) to prized super hero comic books. Read up about Master Rick and drool over his aptly named collection, the Rickollection, on this awesome Asgard interview!
Asgard Anime: Anime has played a huge part in influencing the otakus of today. Was it anime that propelled you to start your own collection?
Rick Tidoy: No it wasn't. When I started my collection, I was still in Grade 5. In other words, anime was just starting to become popular. The popular anime during that time were Voltes 5, Dragon Ball, Gundam, Doraemon and Daimos. The very first member of my collection was a Spider-Man action figure I bought with the money I saved from my own allowance; it was an original. What really influenced me were the shows during my childhood, not just anime. My second purchase of the collection is my HG Gundam Sandrock. Of the 2 toys I started with, my Gundam Sandrock is the only one still with me.
AA: Since you were collecting figures at an early age, were your parents supportive of your hobby?
RT: Well, at first they thought it was nice for me to save up for something I wanted. As I grew older, they wanted me to stop. But as my collection increased, they pretty much accepted it.
AA: What's in the Rickollection?
RT: [I have] 1/100 scale Master Grade Gunplas (or Gundam Plastic Models graded from FG or first Grade to PG or perfect Grade. The Grading system goes from FG, AG (Advanced), NG (Non-Graded), HG (High Grade), RG (Real Grade), MG (Master Grade) and then PG. [I also have] 1/144 High Grade Gunplas, 1/100 and 1/144 scale non Graded Gunplas, 1/72 scale Zoids, Marvel Legends, marvel Select, DC action figures, Marvel and DC comicbooks, Mangas, Assorted anime figures, Figmas, some remote-controlled cars and helicopters, assorted board games, assorted foreign currency, trading cards, playable trading cards (and the boxes) and books.
AA: From your vast collection of figures, which one has cost you a lot?
RT: My 1/100 Master Grade Perfect Zeong which cost me 6500 PHP (157.86 USD), including shipping and handling.
AA: What's the story behind the Master Grade Perfect Zeong that you just had to get it?
RT: It's simple, it's BIG. It's the Largest Master Grade Gunpla out there, about twice the height of a regular Master Grade and thrice the size.
AA: You mentioned that you also have Marvel and DC comic books and action figures are part of your collection. Did these also start in during your childhood?
RT: It actually started during college, but even during high school and grade school, I loved super heroes. My oldest one is Ghost Rider: Road to Damnation #1.
AA: Comparing the number of your Gundams to your super hero action figures, which has the most population?
RT: Right now, The Gundams which number about 36 while my Heroes number at 31.
AA: With the latest iron man movie out, any plans of adding movie edition action figures to your collection?
RT: Well yes, actually. Iron man is one of my personal favorites, even when I was still living in Manila during my grade school years.
AA: As a Bruce Lee fan, did you consider adding Bruce Lee figures to the Rickollection?
RT: Yes. When I was in Hong Kong earlier this month, there was one store dedicated to selling his merchandise and that included his action figures. However, that shop was still closed when I went there. But Yeah, I really want to add him to my army. I am planning on getting his FIGMA, too.
AA: You proudly showed part of the Rickollection during the January 5 Cosplay event in Centrio. How did the idea start and how did the audience take it?
RT: I was actually told by Emil [Maniquiz] and Kimpoy [Guro] that there would be a display. They actually invited us so we did. The audience liked it and I had to continually stop kids from trying to hold my babies.
AA: From your collection, is there a specific item that's very special to you?
RT: I would say my 25th Anniversary edition Marvel Legends Silver Wolverine. I was in New York at that time. Me and my mom were going around Times Square until we came upon the largest Toys "R" Us branch in America. There, we noticed a LONG line – a very LONG line. Some people were even cosplaying Marvel characters. Curious, I went to the start [of the line] and saw that they were selling Limited Edition Wolverine Action figures. When I saw that, I immediately took the chance and lined up. I met a lot of comic book enthusiasts that day. They were friendly and super awesome. Oh, and one of the reasons why My Silver Wolverine was super special? There were ONLY 25,000 of those made and they were only sold that specific day.
AA: In Cagayan de Oro, cosplay events are much more common than toy conventions. Is it part of your dreams to see and be a part of a local toy convention in the city some time in the future and why?
RT: YES, that is what I am aiming for, a Toy Convention In Cagayan de Oro. I want the hobby to be spread. Sure, there are a lot of us collectors in Luzon, Cebu and Davao, but here in Cagayan de Oro, I can name only about 10 of us. I believe that there ARE others that I don't know of, and I want them to come out and show everyone their collection. Cosplay has become a widespread hobby already here after just a few years since the first members of CDOtaku had their first event in Xavier University, I can say we have a good population already. However, I also want us toy collectors to be seen as well. That is why I want a Toy Convention here, not just for us collectors and people who want to be collectors, but I want it to be an over-all event with cosplay, card tournaments, diorama contests and not just toy displays. Bacolod already had its first Toy Con last year. If they can do it, so can we
AA: If there are people out there who want to start their own collections, what would your advice be and why should they stay away from bootlegs (fakes)?
RT: Personally, I would stay away from bootlegs since bootlegs have poor quality, their paint jobs are bad and they aren't as sturdy [as the original ones]. However, if you want to start with them because of lack of funds for an original, then why not. A bit of warning though, their value will never increase if you want to sell them. Toys and figures are a bit of an investment for collectors. Often, toys go out of stock, so their sell values go up whenever that happens. It's the same with comic books. The moment a comic goes OUT OF PRINT (when they stop printing that particular issue), the value just keeps going UP the longer it stays in mint condition.
AA: What's Rick Tidoy into aside from collecting?
RT: I am a chef, I am a baker and I bake mostly pastries. However, I can go into savory foods and some international cuisines as well, including Filipino foods. I was also a Tae Kwon Do Instructor in the past.
AA: What's your all time favorite anime and why?
RT: Hmmm… That would be kind of hard but it would be the ORIGINAL, Mobile Suit Gundam from 1979. It's a VERY ground Breaking anime which talks about the horrors of war, its justifications and why it's useless. Over-all, it's a very idealistic anime. It's a classic given that it's from 1979 and is still relevant TODAY.
AA: Is that the reason why you love Gundams?
RT: Not really, what made me love Gundams was the very first series I ever saw: Gundam Wing. I only watched it when I was in college and I fell in love with the series and I admit it was one of the best ever.
Photo credits go to Lanz Chester Enterina of Lanz "Kuroseirei" Enterina Photography and Khristoffer Liao of Creative Roll Studios.